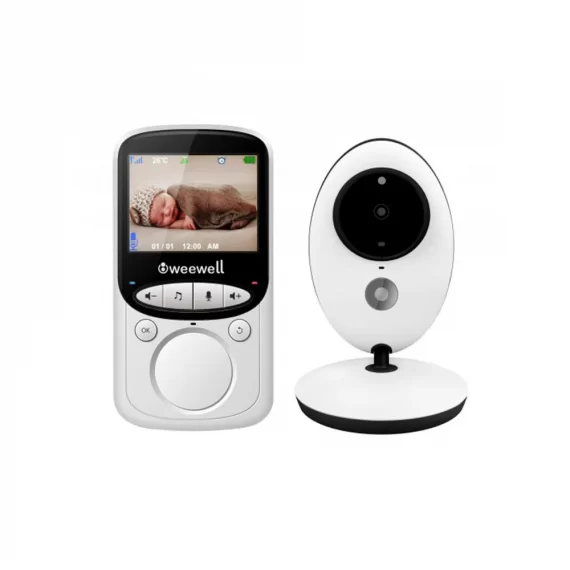 WMV815 – Weewell Digital Baby Video Monitor
$0.00
Description
High Definition LED Display
The color LCD screen has a special technology that allows it to display crystal clear images. The screen size is 2.4 inches so that you can easily see the details while watching your baby. It has the ideal screen size so that you can watch your baby comfortably and carry it with you while you are doing your business.
Automatic Night Vision
It is very important that you can watch your baby with a clear image whenever you want. Thanks to its crystal clear black and white night vision, you can watch your baby at night as well as during the day.
Dialogue
With the talk button on the parent unit, you can transmit your voice to your baby and help him calm down. Since Weewell WMV815 Baby Monitor transmits your voice in its most natural state, you can make your baby feel like you are with them.
Calming Lullabies
With soothing lullabies, your baby will calm down and fall asleep more easily. Weewell WMV815 Baby Monitoring Device calms your baby with lullabies and helps them relax and sleep comfortably.
Ambient Temperature Sensor
Your baby is more affected by environmental changes than adults. For this reason, it is very important to keep the temperature of the environment in a certain range. With the ambient thermometer feature of the Weewell WMV815 Baby Monitor, you can monitor the ambient temperature of your baby from the parent unit.
Vox Mode
VOX Mode automatically puts the screen to sleep and saves battery. It activates automatically when sound is detected in the baby's room.
Versatile Use
With its 360-degree rotating base and tilting head, you can place the camera wherever you want to see your baby at the most efficient angle.